Oktober 15, 2018
Slå På Kunst på besøk
27. okt – 4. novSlå På Kunst viser verker av Eva Ballo, Per Formo, Reidun Synnøve Gravelseter, Øyunn Hustveit, Karoline Sætre, Kristine Wathne og Eigil Forberg som en del av kunstbiennalen Trondheim Open. Kom innom hjemme-hos-utstillingen i Fjæregata 6 å se hvordan kunsten forandre rommet og rommet forandrer kunsten.
I løpet av biennalen arrangerer vi også en intimkonsert og en salong med temaet 'å samle'.
Kunstverkene er til salgs.
Gratis inngang.
Åpningstider: Lørdag og søndag kl 12 – 16 (27.- 28.okt og 3.- 4.nov)
Intimkonsert med Viktor Wilhelmsen: Tirsdag 30.okt kl. 20:00
Salong om å samle : Søndag 4.nov kl. 16.00
/
Slå På Kunst House Call
27th of oct – 4th of nov
Slå På Kunst is exhibiting works by Eva Ballo, Per Formo, Reidun Synnøve Gravelseter, Øyunn Hustveit, Karoline Sætre, Kristine Wathne og Eigil Forberg as a part of the art biennale Trondheim Open. Join us at our pop up exhibition in Fjæregata 6 to see the works change the room and the room change the works.
During the week there will also be a concert and a 'salong' on collecting.
All art works are for sale.
Events are free.
Opening times: Saturday and Sunday 12 – 4pm (27th-28th of oct and 3rd-4th of nov)
Concert with Viktor Wilhelmsen: Tuesday the 30th of oct at 20:00
Salong on Curating: Sunday the 4th of nov at 16:00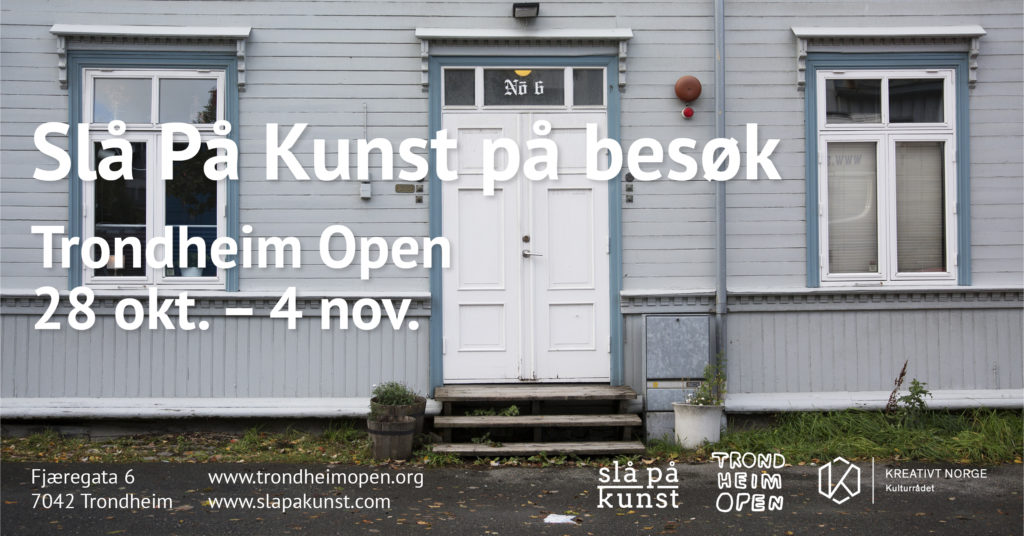 August 2, 2018
Solsiden Kjøpesenter / Øyunn Hustveit, Karoline Sætre, Per Formo
Velkommen til Slå På Kunst på Solsiden, en pop-up-utstilling med Per Formo, Øyunn Hustveit og Karoline Sætre. Arbeidene som stilles ut er både digitaltrykk, tekstil- og tekstarbeid og er spesielt valgt ut for disse omgivelsene.I samarbeid med arkitekt og kunstner Enrique Roura har vi designet åpne og fleksible veggkonstruksjoner som danner et gallerirom inne på kjøpesenteret. Her kan du se kunsten fra både ut- og innsiden, og du kan sette deg ned og gi inntrykkene tid til å synke.Per Formo (f. 1952, Trondheim) er utdannet ved Musikkonservatoriene i Trondheim og Kristiansand og Kunstakademiet i Trondheim. Formos arbeider er konstruerte geometriske figurer, både i form av malerier og digitale trykk, basert på faste regler. Med dette ønsker han å gjøre oss bevisst på handlingen å se, både å se hva vi observerer og å observere det å se, hva gjør vi når vi ser, hvordan jobber vi med å konstruere en visuell mening?"Plantekraft 1" og "Plantekraft 2" kommer fra en lang serie arbeider som startet i 2001. Bildene i denne serien er alle bygget på en geometrisk konstruksjon som oppstår ved at man trekker linjer mellom endepunktene til roterende diametre i et rutenett av sirkler.Øyunn Hustveit (f. 1985, Vinje) har MA fra Kunstakademiet i Trondheim, der hun bor og arbeider. Hustveit jobber hovedsakelig med tekstile collager som resulterer i delikate landskapsbilder. Tematikk knyttet til abstrakte begreper som fravær, stillhet og tomhet står sentralt i kunstnerskapet."Rand" er en av flere arbeider der kunstneren ønsker å la horisonten, og det fjerntliggende motivet, konfronteres med nærheten i materialenes taktilitet og stofflighet.Karoline Sætre (f. 1992, Trysil) har BA fra Kunstakademiet i Trondheim og holder nå på med sin MA ved Malmö Konsthögskola. Hennes kunstneriske fokus ligger i krysningen mellom kunst, litteratur, bilde og tekst. Sætre jobber både med rene litterære prosjekter, så vel som installasjonsbaserte arbeider hvor tekst og form er viktige elementerSerien hun viser på Solsiden ble laget i 2015, som en del av et studie som ledet til et større verk som ble stilt ut på hennes avsluttende bachelorutstilling. Teksten er påført med håndlagde stensiler, og ble skrevet gjennom flere økter med "automatekst" – en skrivemetode som går ut på å skrive uten stans i en gitt tidsperiode.Slå På Kunst er et lokalt prosjekt for å fremme visning og salg av moderne kunst i Trondheim. Vi er støttet av Kulturrådet og prosjektet på Solsiden er støttet av Trondheim Kommune, Solsiden Citycon, Floriss Solsiden, Transit Trondheim og Godt Brød./
Welcome to Slå På Kunst at Solsiden, a pop up show featuring Per Formo, Øyunn Hustveit og Karoline Sætre. The exhibited works ar digital prints, text and textile based art chosen especially for these surroundings.
In collaboration with architect and artist Enrique Roura we have designed open and flexible wall constructions that forms a separate gallery room inside the shopping mall. Here you can study the art from the inside and the outside as well as sit down and let the impressions sink in.Per Formo (b. 1952, Trondheim) has a background from the music conservatories in Trondheim and Kristiansand and the Art Academy in Trondheim. Formo constructs geometric figures, both in forms of painting and digital prints, based on a set of rules. He aims to make the act of looking into a conscious effort, both to actually see what we are looking at, and, at the same time, to observe the act of seeing: what we do when we see, how we are working at constructing visual meaning."Plantekraft 1" and "Plantekraft 2" belongs to a long series of works that started in 2001. The images in this series are all based on a geometric construction produced by drawing lines between the endpoints of diameters rotating in 45 degrees counterclockwise steps in a grid of circles.Øyunn Hustveit (b. 1985, Vinje) holds an MA from the Art Academy in Trondheim, where she lives and works. Hustveit creates textile collage work resulting in subtle landscapes. Themes related to abstract concepts like absence, silence and emptiness are central in her artwork."Rand" is on of several works where the artist aims to let the horizon, and the remote motive, be confronted with the proximity in the materials' tactility and materiality.Karoline Sætre (b. 1992, Trysil) holds a BA from Kunstakademiet i Trondheim from 2015. She is currently doing her MA at Malmö Konsthögskola, and her artistic focus lies on the intersection between art and literature, image and text. Her working methods varies between textbased surfaces and more literary texts, but is often presented through installations.The series of work presented was made in 2016 as part of a study leading up to a larger work for her BA show. The texts are applied through hand made stensils, and were written through a series of sessions with "automatic text" – a method where you write non stop for a certain amount of time.Slå På Kunst is a local project to promote the display and distribution of contemporary art in Trondheim We are supported by Arts Council Norway, and the project at Solsiden is supported by Trondheim Kommune, Solsiden Citycon, Floriss Solsiden, Transit Trondheim and Godt Brød.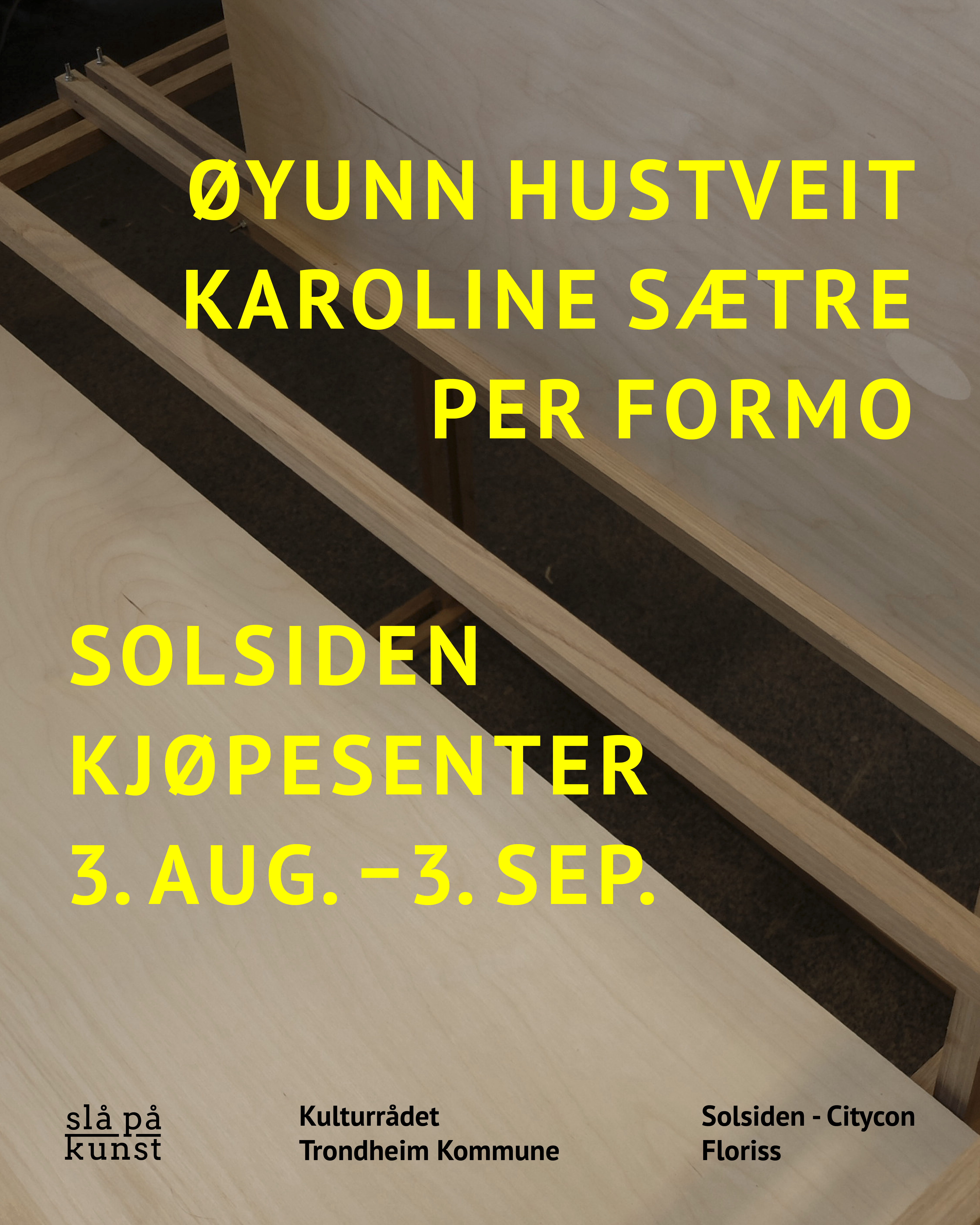 Tusenårskiosken / Eva Ballo
For de som lengter etter mer enn hva et første kan gi
Eva Ballo
24.3 – 1.4.2018
"Jeg jobber med tekstilmaleri, skulptur og installasjon. I arbeidene mine bruker jeg materialer og teknikker som er langsomme og håndverksbaserte. Jeg viser tekstile skulpturer, sydd i bomullsstoff, dekorert med mønster laget ved hjelp av voks og tekstilfarge. Min interessere ligger i forskyvninger og misforståelser som oppstår når man tolker verden rundt seg gjennom det materielle.
I Tusenårskiosken forholder utstillingen seg til kroppen og klesplagg som en måte å leke med det narrative. Hvorpå en hånd blir til en skygge, en renholdes drakt tar form som et evighets symbol , og den forvunnede skilpadden fra Fontana della Tartarughe kan sees som en alt for stor hatt."
/
"My work involves textile painting, sculpture and installation, using materials and techniques that are time-consuming and craft-based. In Tusenårskiosken, I show textile sculptures, sewn in cotton fabric, decorated with patterns made by wax and textile dye. My interest is in misunderstandings or distortions that occur when interpreting the surrounding world through materials. At Tusenårskiosken the exhibition relates to the body and clothing to play with this narrative, where a hand becomes a shadow, a cleaner's uniform takes the form of an infinity symbol, and the missing turtle from Fontana della Tartarughe can be seen as an oversized hat."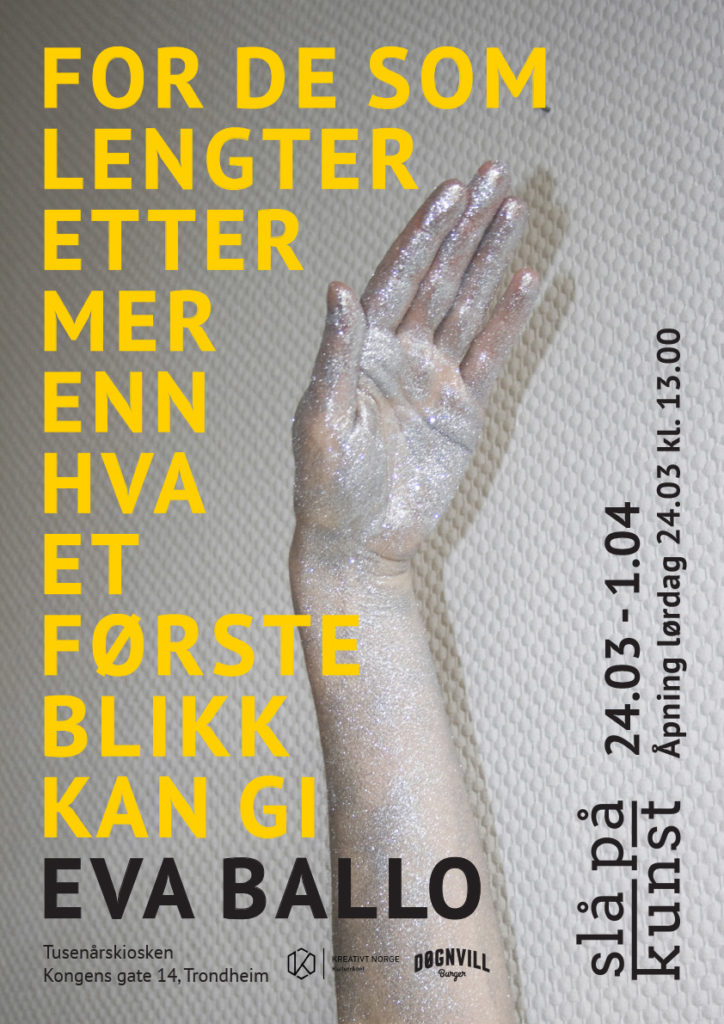 _
Mars 10, 2018
Tusenårskiosken / Kristine Wathne
GLORY MASSAGE
Kristine Wathne
10.3 – 18.3.2018
Kristine Wathne viser en enorm dedikasjon til sine prosjekter og er i konstant prossess, hun er en unik fotograf som vi får mulighet til å oppdage i Tusenårskiosken med prosjektet Glory Massage. Med sterk dokumentarisk fotorealisme, tar hun et intimt, satirisk og antropologisk dypdykk i de aspekter vår moderne livsstil har å tilby. Hun har allerede fått mye oppmerksomhet for arbeidet sitt, og hennes prosjekter er tidligere publisert i Dagbladet Magasinet, VICE magazine, PYLOT, Magasinet Fotograf mm.
Drevet frem av en begeistring for vårt mangfoldige og varierte ansiktsutrykk, presenterer prosjektet Glory Massage en typologisk portrettserie fotografert høsten 2017. Det hele startet med ideen om å skape en humoristisk portrettserie: Å fotografere menneskers vrengte, varierte ansiktsutstrykk under en massasjebehandling. I planleggingsprosessen til prosjektet kontaktet hun flere massører og massasjestudioer i Trondheim, for å spørre om de ville inngå et samarbeid for å realisere prosjektet. Etter å ha fått avslag fra alle hun kontaktet, måtte hun ta jeg saken i egne hender for å realisere prosjektet.
"Jeg kjøpte jeg en 17 kilo tung massasjebenk på bruktmarkedet finn.no, og etter å ha fått tillatelse til å oppholde meg på diverse kjøpesentre og i større kontorlokaler spurte jeg tilfeldig forbipasserende om de ville bidra til prosjektet ved å bli fotografert. Prosjektet mottok stor begeistring og samarbeidsvilje fra publikum, som har gitt et utvalg på totalt 150 unike massasjeportretter."
/
Kristine Wathne show an enormous dedication to her projects and is in a constant process. We get to meet this unique photographer in Tusenårskiosken with the project Glory Massage. With a strong photo realistic expression she takes an intimate, satirical and anthropological dive into aspects of modern lifestyle. Wathne has already recieved a great deal of attention for her work, with publications in among others Dagbladet Magasinet, VICE magazine, PYLOT, Magasinet Fotograf.
Driven by a fascination of capturing human realism and awkwardness, Kristine Wathne have portrayed peoples squeezed and varied facial expression while being massaged. The project started out with an idea to create a humoristic portrait series: To photograph the distorted face of people getting a massage. While planning Wathne contacted several masseurs and studios in Trondheim, asking them to do a collaboration. But after getting turned down every time she took the matter in her own hands.
"I bought a 17kg massage table at the marketplace finn.no, and after acquiring permission to work in shopping malls and large office spaces I asked random passers-by if they wanted to contribute to my project by being photographed. The project received great enthusiasm and cooperativeness from the public, and resulted in a collection of 150 unique massage portraits."
In Tusenårskiosken Kristine will present 7 of these portraits to be view from the street.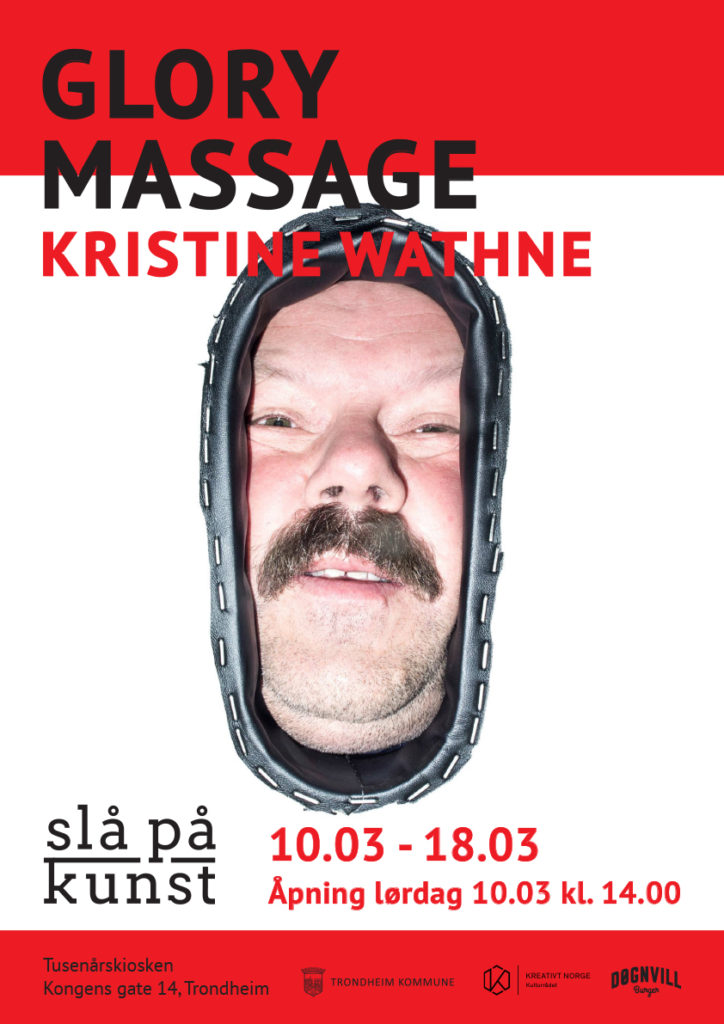 Februar 23, 2018
Tusenårskiosken / Reidun Synnøve Gravelseter
My skin so thin (exposing all the black holes within)
Reidun Synnøve Gravelseter
24/02 – 04/03/2018
My skin so thin (exposing all the black holes within) er ei utforsking av det materiale ved eit Polaroidbilete og korleis det reagerer i møte med ei traumatisk hending, i dette tilfelle vatn. Ved å drukne dei nostalgiske Polaroida, har dei fått ei ny form, strippa for konvensjonar, kunn fargereaksjonar og det taktile ved emulsjonen igjen. Når eit Polaroidbilete blir plassert i vatn utvidar den fotografiske emulsjonen seg, men sidan det ikkje er plass til å utvide seg begynner emulsjonen å bøye seg oppover i djupe folder som eit fascinerande draperi. Det fotografiske blir taktilt, som om fotografiet er eit tekstil, mens fotografiets funksjon med å huske for oss, å ta vare på minna, er fullstendig borte.
/
My skin so thin (exposing all the black holes within) is an exploration of the material of the Polaroid picture and how it reacts to a traumatic experience, in this case water. By drowning the nostalgic Polaroids, they take a new form, stripped of conventions, leaving only colour reactions and the tactility of the emulsion. When a Polaroid picture is placed in water the photographic emulsion expands, but with nowhere to expand it bends and curls into deep folds like a fascinating drapery. The photographic becomes tactile, as if the photograph was a textile, while the function of the photograph, remembering for us, storing our memories, is completely gone.
_
Februar 17, 2018
Tusenårskiosken / Tomrom
We are very happy to establish a collaboration with Tusenårskiosken. We will be having punctual exhibitions at the Kiosk and the first one, on the 24th of February, will be an exhibition by the artist Reidun Synnøve Gravelseter.